Johnson Controls Announces Next Generation Illustra Intelligent Surveillance Cameras  
New camera lines bring the power of deep learning AI to enterprise and commercial applications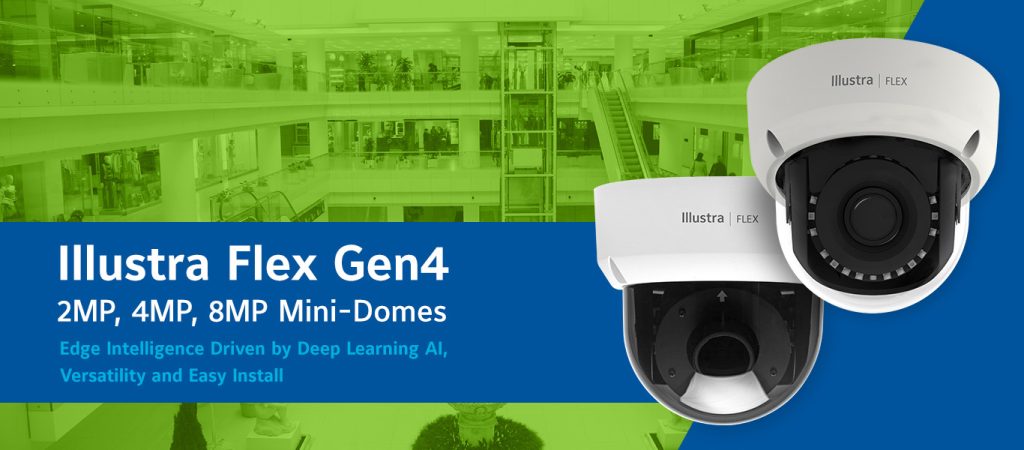 (MILWAUKEE, March 16, 2022) –Johnson Controls, the global leader in smart, healthy, and sustainable buildings, has announced a new generation of Illustra Pro and Illustra Flex cameras. The fourth-generation cameras include deep learning AI, up to 4k resolution, and improved low light visibility.
"The camera space is incredibly competitive and it's important we stay on the forefront of technology," said Dave Pulling, VP and General Manager. "Our AI enabled cameras are delivering the resolution, technology and connectivity that our customers demand without compromising the flexibility and quality Johnson Controls is known for."
Illustra Pro and Illustra Flex fourth-generation cameras include a powerful feature line-up:
Built-in deep learning AI with the ability to accurately classify many human and vehicle targets within a scene with an expansive list of subclassification capabilities
Edge storage capacity of up to 2 TB of encrypted data
Cloud ready straight out of the box
Market leading operational tolerances, suited to even the most challenging environments
Available in 2MP, 4MP and 4K resolution
Improved low light performance provides sharp, clear day and night images
Follows the stringent cyber security standards with a secure boot and end-to-end encryption
Backed by Johnson Controls 5-year warranty
Illustra Pro and Illustra Flex fourth-generation cameras will be available as an indoor/outdoor dome or PTZ (pan/tilt/zoom). Additionally, the Illustra Pro line will add a new multisensor camera, which will feature four motorized, individually repositionable varifocal lenses (5 MPx4, 8MP x4) creating 360-degree customizable coverage complemented by deep learning AI classification capability on each individual sensor. The multisensor cameras reduce cost of deployment by using a single wire to power and connect all four sensors.
"No one has a camera like this." Says Pulling. "The multisensor camera changes the way you will connect and view your locations, adding deep learning AI will make the experience even more intuitive."
The multisensor camera and all other 4th generation Illustra Pro and Illustra Flex Cameras will be on display at ISC West 2022, the International Security Conference in Las Vegas, Nevada. For more information, visit www.illustracameras.com
Media Contacts:
Ryan Nolan
Global Public Relations Program Manger
Building Technologies & Solutions
Johnson Controls
Work + 1 414 524 6170
Mobile + 1 414 378 9641

About Johnson Controls
At Johnson Controls (NYSE:JCI) we transform the environments where people live, work, learn and play. As the global leader in smart, healthy and sustainable buildings, our mission is to reimagine the performance of buildings to serve people, places and the planet.
With a history of more than 135 years of innovation, Johnson Controls delivers the blueprint of the future for industries such as healthcare, schools, data centers, airports, stadiums, manufacturing and beyond through its comprehensive digital offering OpenBlue. With a global team of 100,000 experts in more than 150 countries, Johnson Controls offers the world's largest portfolio of building technology, software as well as service solutions with some of the most trusted names in the industry. For more information, visit www.johnsoncontrols.com or follow us @johnsoncontrols on Twitter.