At Least 4,612 Reasons to Choose Exacq
As of today, there are 4,612 reasons why Exacq stands out in a crowded Video Management Software (VMS) market, although by tomorrow that number may have increased as it reflects how many cameras have so far been successfully integrated with the ExacqVision platform.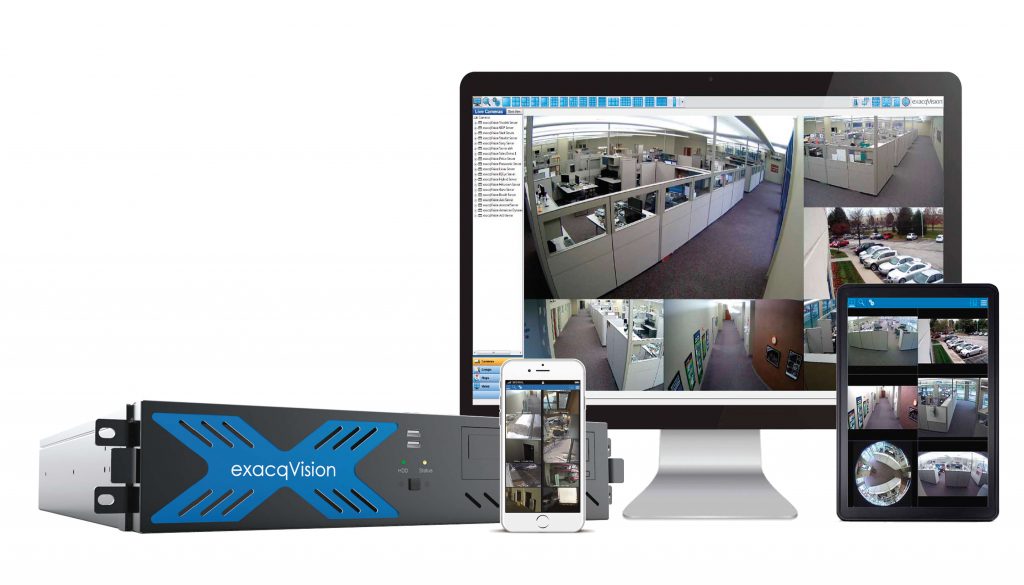 The cameras are produced by over 90 different manufacturers and include older generation IP network cameras, as well as the very latest open platform, ultra-high definition and thermal imaging models. Each of the cameras have been physically connected to the ExacqVision VMS and tested, with the results published on the Exacq website. The number of cameras tested has grown over time and will continue to do so as and when new cameras are introduced to the market.
As impressive at this is, ExacqVision's ability to support such a large variety of cameras is complemented by an equally remarkable long list of practical features which ensure installers and system integrators can, without extensive training, deliver the full benefits of the open capabilities of the VMS platform to their end-user clients who need to protect people, property and assets.
Here are a few more reasons to always specify Exacq:
User-friendly front end display: The need to be able to react quickly and effectively to any incident or suspicious activity has never been more important. ExacqVision's customisable and extremely easy to use graphical user interface (GUI), ensures control room operators can effortlessly view live images or review recorded video from a desktop monitor or video wall. Security personnel on the move can access all the key functionality of ExacqVision on their smartphone, via the free Exacq Mobile App which is available for iOS and Android.
Powerful and intuitive: ExacqVision solutions are packed with real-world practical features such as customisable video wall support, interactive mapping and powerful 'Smart' thumbnail, timeline and list search capabilities, whilst a system can be configured to ensure captured images are 'pushed', for example, to a mobile device.
Integration: With increasing market demand for video surveillance, Access Control and intruder detection systems to interact, a major advantage of having the Kantech, DSC and Exacq brands within the Tyco portfolio is the ability to achieve deep and true integration between these different types of security systems. A key benefit of this integration capability is that operators can be alerted within the exacq GUI when there is an intruder or Access Control event, as well as view video related of the event. This offers increased situational awareness and makes the assessment of an event much easier, with exacq providing operators with visibility over their organisation's Access Control and intruder detection systems.
Scalable: From a single camera upwards, ExacqVision VMS is scalable with virtually no limit on the number of cameras it can manage. This means that a video surveillance system utilising exacqVision can easily be expanded to take into account an end-user's evolving security requirements. Starting on a modest scale, the system can be modified at any time to support an increase in the camera count, as well as integration with other systems and technologies.
Quarterly Updates: End-user operational requirements change, businesses expand and new threats emerge. Exacq appreciates it is crucial that VMS, which is more often than not placed at the heart of an integrated electronic security solution, is regularly updated. This is why, like clockwork, an upgrade of the exacqVision VMS is released every quarter. The incremental improvements incorporated within each release are intended to generate new revenue opportunities for system integrators and ensure end-users' expectations are fulfilled by the delivery of additional real-world practical advantages.
ExacqVision Enterprise Manager: The ability of this application to provide greater situational awareness and minimise the burden of managing large or complex video surveillance systems should not be underestimated. Supplied free with all Enterprise level systems, ExacqVision Enterprise Manager offers an easy to use, convenient and time-saving way to centrally administer and monitor all the key aspects of an ExacqVision solution from an intuitive web based dashboard.
ExacqVision Enterprise Manager saves time and resources by allowing users to maintain a single operator database for multiple NVRs, remotely schedule recorder updates, manage the systems failover capabilities and remotely inspect all connected cameras to verify that their fields of view still match the system's operational requirements.
ExacqVision Enterprise Manager keeps you informed in real-time as to the health of exacqVision servers, with system errors and alerts displayed on a dashboard. Knowing of any system events as soon as possible ensures that health errors are attended to as quickly as possible so as to maintain the functionality of the surveillance system.
ExacqVision EM-Series 500 server: System designers seeking a robust and fit for purpose video recording and storage solution can have peace of mind in knowing that the EM-Series 500 server is equipped to help them monitor and manage up to 500 network video recorders. The server, which features RAID 6 and front-loading hard disk drives for uninterrupted operation, is supplied pre-loaded and pre-configured for a seamless out-of-the-box experience.
Recorder Calculator: Exacq offers up-to-date, real-life practical guidance to help installers and system integrators minimise system design time and negate the possibility of costly mistakes being made by incorrect assumptions about bandwidth requirements. Prominently displayed on the Exacq home page, you will find a link to a Recorder Calculator which enables system designers to input the specific needs of a project, such as the camera count, required resolution, frame rates, compression format and recording hours. The Recorder Calculator quickly establishes the network bandwidth necessary to multi-stream images from the specified cameras and makes a recommendation as to the specification of the server required for a project.
HD Video Encoder: The Tyco HD Encoder, which is supported by exacqVision, enables high definition (HD) and standard definition (SD) analogue cameras to function within an evolving IP infrastructure. Available in one-and four-channel options, the Tyco HD Encoder, which allows users in networked environments to retain HD and SD cameras while adding IP cameras over time, is ready to be deployed out-of-the-box and is Power over Ethernet (PoE) enabled. It also features HDMI out, H.264 compression for cameras up to 2MP, multi-streaming and support for AHD, CVI and TVI analogue protocols.
Minimised installation time and costs: On-site commissioning time and costs are reduced by engineers being able to walk test cameras with the help of the Exacq Mobile App.
: There are support and training videos available for virtually every aspect of installing, configuring and commissioning ExacqVision solutions. Visit the Exacq support library where you will find over 90 videos to choose from.
Try Before You Buy: Download the free exacqVision VMS fully functional demonstration software which is populated with more than 12 servers for you to interact with. Experience for yourself how easy it is to use.
Want to know more? Visit www.exacq.com or email: BTS-EMEA-TycoSales@jci.com
Exacq is owned by Tyco, the security brand of Johnson Controls